For details of each film, please scroll down the page, or click on the following links; A Cottage on Dartmoor, Diary of a Lost Girl, Sunrise, Piccadilly

Wurlitza have been performing live music soundtracks to silent films since 2006.

Our scores are very carefully choreographed to fit the mood of every part of the film - requiring time keeping accurate to the second. The repertoire used is wide ranging from jazz and blues to classical pieces to modern anthems and some of our own compositions.

Each film is a culmination of two years of painstaking detail. It would be fair to say our approach is different to other soundtracks. We offer a new experience by accompanying films with a mixture of jazz, classical and contemporary popular music, both instrumental and sung, thereby bridging the distance between the 1920's and the current day.

We have performed film soundtracks live at Glastonbury Festival, Blackpool Film Festival, Plymouth Arts Centre, Cornwall Film Festival, The Electric Palace, Bridport, Port Eliot Festival, Cornwall University, the Barbican Theatre, Plymouth, St Ives September Festival in Cornwall and many other venues.

We are lucky to have the support of Downderry Film Kitchen, who provide a screen and projector for performances in smaller venues that do not have their own equipment. This allows us the flexibility to perform in any venue large enough to accommodate a 3x4m screen.

We currently have four films on offer, all very different. Our latest is Anthony Asquith's A Cottage on Dartmoor. There is the beautiful and exotic Piccadilly by EA Dupont, the timeless, action packed movie Sunrise by FW Murnau and GW Pabst's fresh and powerful Diary of a Lost Girl.

A Cottage on Dartmoor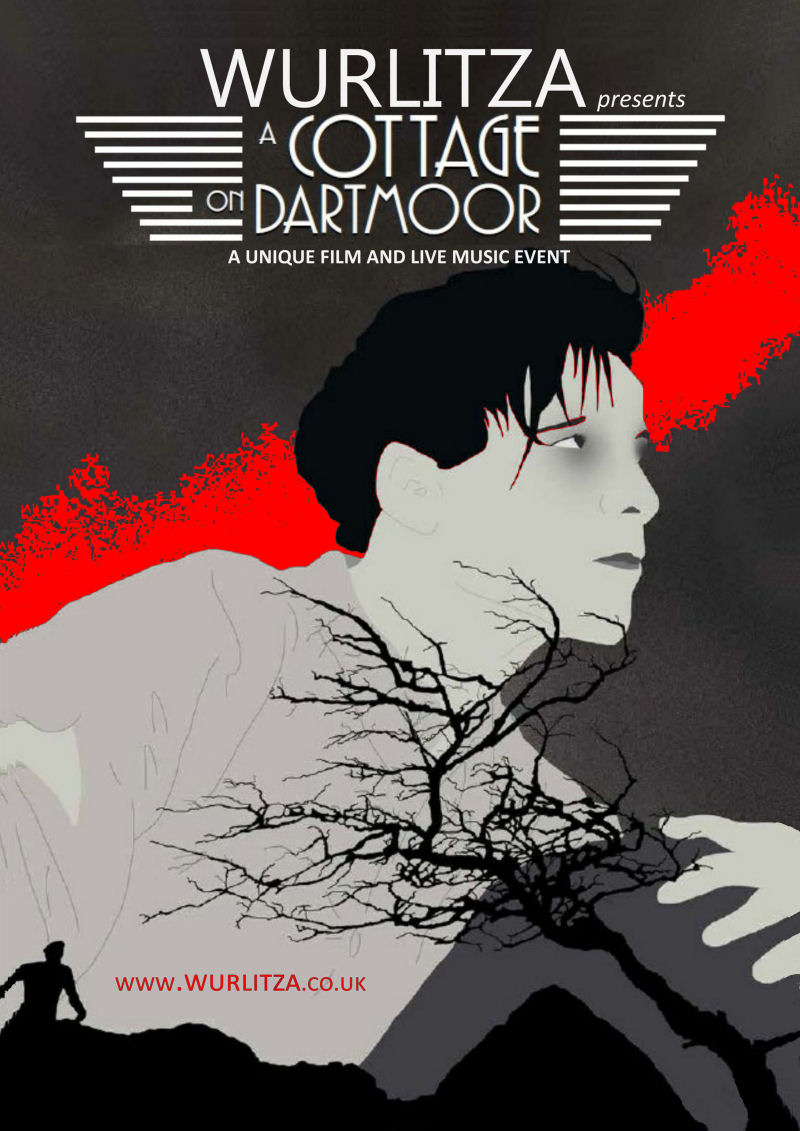 Said to "Out-Hitchcock Hitchcock", Anthony Asquith's A Cottage on Dartmoor uses every cinematic technical trick available to create a story of jealousy and suspense. It is a snapshot on the rise of early talking films, cleverly woven into a plot that involves an escaped convict, a love triangle and, naturally, hairdressing.
Starring Swedish actor Uno Henning as Joe, we follow his escape from Dartmoor Prison and through a series of flashbacks, his interactions with Sally (Norah Baring) and Harry (Hans Adalbert Schlettow).
A Cottage on Dartmoor is much more than just about love and hairdressing. It is a history of the biggest change to hit the film industry since it began; the new "talkies". Everyone is talking about them. And so with the trim of scissors come tales from the cinema and topical subjects of the time. The talkies certainly did bring big changes; directors could no longer use multi-lingual international casts as Asquith does in A Cottage On Dartmoor. Asquith shows off his technical artistry in with rapid montages and carefully framed images. Watch out for the flash of colour!
Repertoire for the soundtrack of A Cottage on Dartmoor includes music by Villa Lobos, Serge Gainsbourg, Right Said Fred, Clearwater Credence Revival, Buddy Holly, Chopin and Louis Armstrong.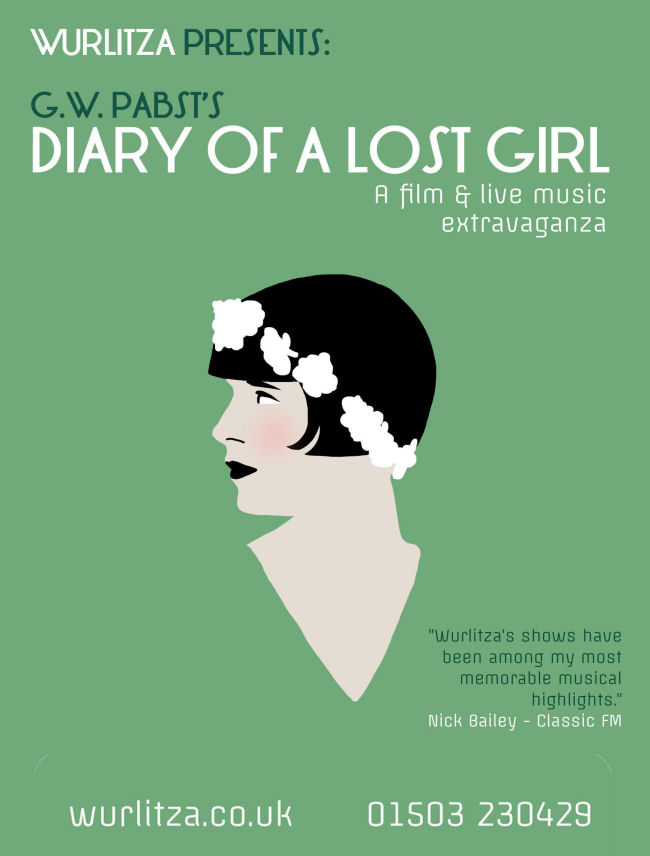 New for 2014, after two years in the making, is Wurlitza's soundtrack for GW Pabst's 1929 movie Diary of a Lost Girl.

Diary of a Lost Girl was made in Germany at a time of great artistic freedom. Fast moving and at times shocking, Diary of a Lost Girl traces the story of Thymian, played by the mesmerising screen idol Louise Brookes, as her life yoyos between episodes of lightness and innocence, darkness and despair. Moments of great comedy involve life in a reform school for fallen girls headed by a villainous nun, and a modern dance lesson with an incompetent buffoon. This gripping film defies convention, confounding expectations as joy and compassion are found in the most unlikely places.

Repertoire for the soundtrack of Diary of a Lost Girl includes music by Django Reinhardt, Fun Boy Three, Portishead, Wire, Chopin and Leonard Cohen.

Diary of a Lost Girl has been very well received in venues throughout Cornwall and Devon. We've celebrated the film by making a soundtrack which can be enjoyed on Soundcloud and Spotify.

"The music was expertly chosen to run seamlessly with the film. It enhanced the experience. It reflected mood and added nuance. The musicianship was excellent. The performance fitted superbly with the images...Why does Wurlitza work? Because they bring magic. And that is never a bad thing." - Ian Craft ‐ Calstock Arts



Sunrise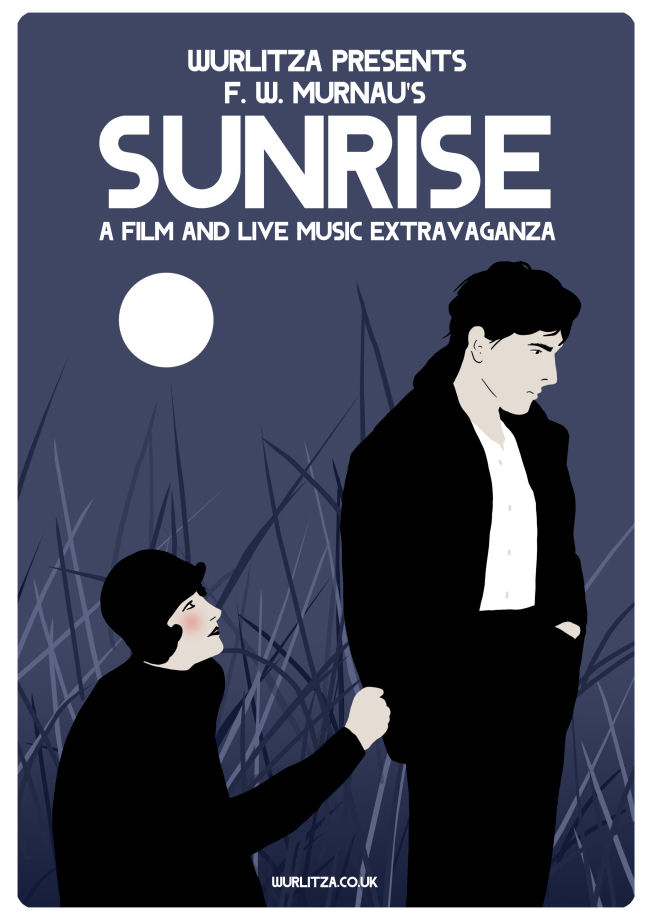 "This song of the man and his wife is of no-place and everyplace: you might hear it anywhere at anytime. For wherever the sun rises and sets…in the city's turmoil or under the open sky on the farm, life is much the same, sometimes bitter, sometimes sweet." So begins F.W. Murnau's astonishing film. It is one of the most moving stories ever told on film. Labelled simply 'The Man' (George O Brien) and 'The Wife' (Janet Gaynor) the protagonists embark on an adventure of temptation, reconciliation, reconsecration and redemption, told with a lyrical simplicity of timelessness and universality.

Sunrise is silent film at its most poetic. Made with an unlimited budget it uses an amazing array of cinematic touches, with a plot that keeps the audience transfixed. Wurlitza have added music that will be both familiar and unfamiliar, from Bach and Villa Lobas to Talking Heads, Echo and the Bunnymen, Madness and the Vapors, as well as some of our own. This is a truly unique and memorable experience, and great for all ages.


Reviews and Comments from our Sunrise Shows:
"I loved Wurlitza's pop to classical mix ...they're fab!" - Badaude (The Guardian)
"Wonderful experience with such talented live music to accompany a gorgeous film."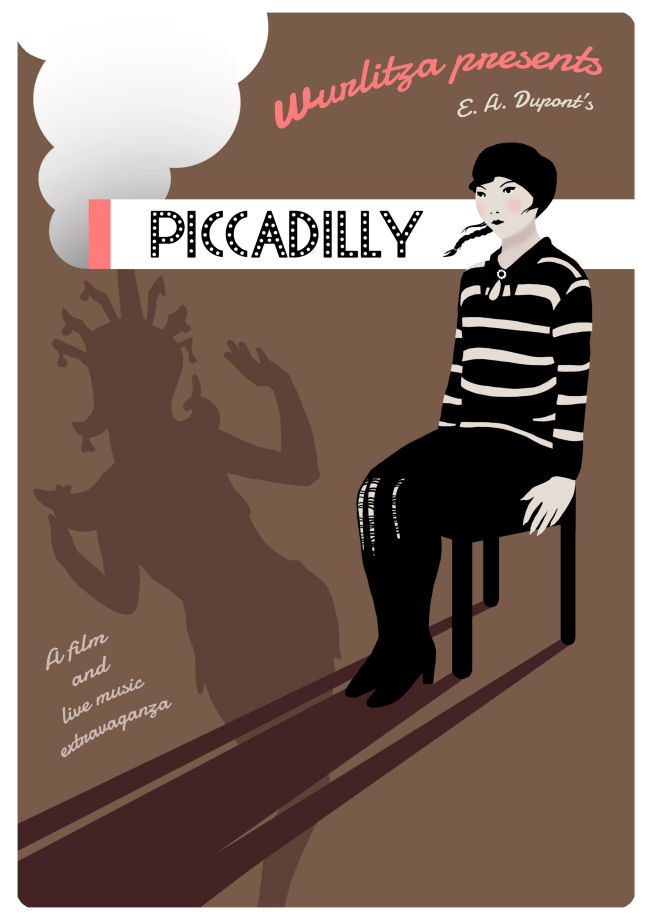 Piccadilly

Piccadilly was one of the great transition films between Silent and Sound pictures, directed by Ewald Andre Dupont. It features the last good work of several distinguished 1920's figures and is one of the true greats of British silent films, on a par with the best work of Anthony Asquith or Alfred Hitchcock in the period.

In the film the Piccadilly nightclub is in danger of decline when manager Valentine sacks his star attraction. But his discovery of talented Chinese dancer Shosho begins a chain of events leading to tragedy.

What we love about Piccadilly is the glamour and we have tried to recreate this with our soundtrack, a heady mix of the jazz standards, classical and ragtime piano, guitar duets, disco, and songs by Leonard Cohen, the Buzzcocks and the Cure.

The clips below are extracts from a live performance of Piccadilly. (The video quality is poor here; we use a BFI remastered copy for live performances.)





Reviews and Comments from our Piccadilly Shows:

"I saw Wurlitza last year and thought the whole evening was fantastic, so really made the effort to come again last Friday which was equally good... I would fully recommend this Cornish band who are refreshingly different. A fusion of everything, jazz, folk, rock and pop with a touch of classical thrown in. What I particularly admired was Wurlitza's skill in fitting the music to the films from both a timing point of view but also choosing just the right type of music. Whistling Take Five was a masterstroke!" - Nick Bailey (Classic FM)

"The performance of Cornish band, Wurlitza this evening provided a daring and singular accompaniment to the silent film classic, Piccadilly. Blending contemporary musical themes in a unique and seamless performance this entertaining hybrid offers a fresh approach to this genre. A musical and visual treat that is not to be missed." - Paul K Joyce (Composer/Producer)

"I thought your Piccadilly performance was amazing...original and beautifully played. Thank you!" - Paul Moss.


Wurlitza have also produced a soundtrack for a series of short films by the Cornish film maker Andrew Lanyon. This was premiered at the In The Flesh festival at the Barbican theatre in 2006.



Below are some links you may find interesting. This links section is still under construction and is by no means all inclusive. If you have a site you feel would be of interest please do contact us and let us know.

Film Clubs and Festivals

The Cornwall Film Festival - The Cornwall Film Festival is an annual celebration of Cornish and international filmmaking.
Liskerrett Film Society, Liskeard - Meeting on the first Friday of the month in the Liskerrett centre, Liskeard. A friendly film society including silent films with live soundtracks by Wurlitza
Looe Film Society - The cinema by the sea, showing fourteen films a year - including silent films with live soundtracks by Wurlitza

Silent Film Links

Bristol Silents - Celebrating Silent Film, with festivals, events and links
Donald Sosin's Silent Film Music Blog - news from musicians creating live soundtracks to silent films on the other side of the Atlantic
Glen Pringle's Silent Movie Site - Lots of related pages to silent films, including silent film screenings, a music page and star of the month
Group 95 - a focus point for all 9.5mm film collectors and silent film enthusiasts. A place to exchange information and ideas, to keep interest in "obsolete" film gauges
Hello Harold Lloyd - The World's first website on Harold Lloyd
The Virginia Lee Corbin Scrapbook - extensive archive of information on this forgotten silent star
Niles Essanay Silent Film Museum - Includes information on the Broncho Billy Silent Film Festival
Silents are Golden - All about the greatest era in cinema history! A comprehensive silent movie American Site - includes film screenings, articles, essays and reviews
Silent Film Music - Donald Sosin and Joanna Seaton's site. "Of all the musicians who play for the silent film today, Donald Sosin is for me the one who is most sensitive to the film he accompanies, the one who supports the film and never overpowers it." Joanna Seaton is a "silvery soprano" actor, healer and author, who has produced a number of recordings with her husband Donald Sosin.
Silent Sound Films - Sponsors of live performances to silent films